EEB Spotlight: Edwin Solares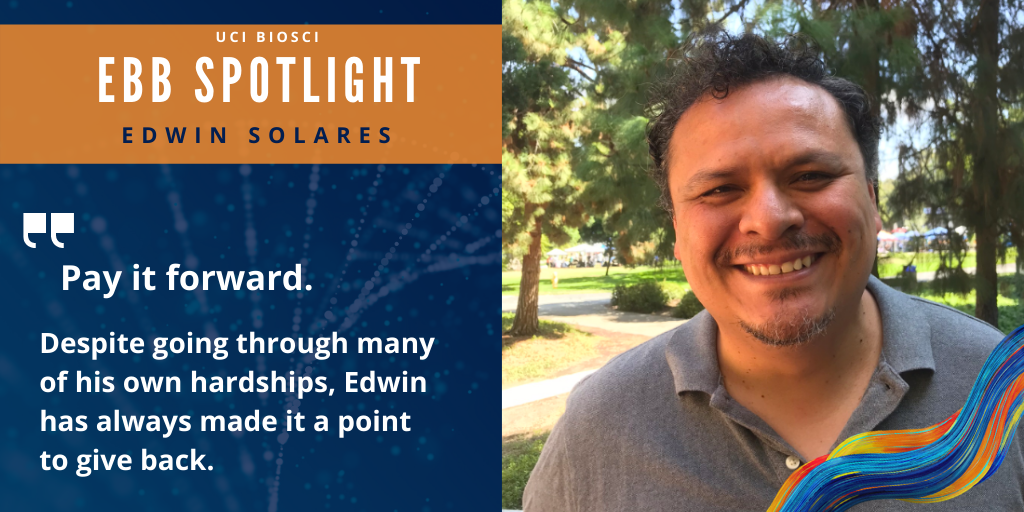 Edwin Solares, who is currently finishing his Ph.D. In Comparative Genomics and Evolutionary Biology, has recently been awarded the prestigious UC President's Postdoctoral Fellowship. He is only the second person to receive this award as an Ecology and Evolutionary Biology graduate student.
Solares, who speaks English, Spanish, and Korean, is no stranger to accolades. He was previously awarded the Graduate Research Fellowship Award and the UC President's Pre-Professoriate Fellowship Award (among others). He notes that the UC President's Pre-Professoriate Fellowship helped him prepare for the UC President's Postdoctoral Fellowship.
While many institutions and fields are aware of the need to advocate for diversity, for STEM it is especially necessary to rethink the academic narrative to serve all students. Therefore, it is important to acknowledge stories like Solares'. Only with a growing focus on diversity, equity, and seeing life from another perspective can this shift take place.
Edwin has often faced discrimination in the academic space and otherwise—from his high school counselor not allowing other Latino kids to take courses like chemistry, to having ideas constantly rejected, even at one point being told that he had to "work twice as hard" because he is Latino.
The UC President's Postdoctoral Fellowship aids women and minorities in their pursuits of postdoctoral research positions to diversify faculty and researchers at the University of California by providing funding and hiring incentives. The program has been around since 1984 with the main goal of promoting diversity and equality. It is a step in the right direction and serves as an example for other institutions to make education more inclusive.
It is programs like this one that not only provide opportunities for underrepresented students, but also expand their horizons. "Reality's a lot more complicated than we like to put on a spreadsheet," says Edwin. Without initiatives for many minority students, their careers might not even be possible, a sentiment which Edwin understands firsthand. Just getting to college alone can be difficult, but discrimination, limiting beliefs (those imposed and potentially adopted), and different life experiences all impact many students; we just don't always get to hear their stories.
Edwin remembers tutoring friends in math at Corona High School that were never really given a chance, only for it to become their favorite subject. He even introduced a friend to Shakespeare who fell in love with literature and from then on always had a pen behind his ear and his book at the ready. It just takes one person to believe in you, one person to advocate for you, and that is the kind of person that Edwin strives to be. With all the change the world and academia needs to see, it's refreshing to hear from people like Edwin who believe "if I don't do it, no one will."
Despite going through many of his own hardships, Edwin has always made it a point to give back. In his words: "pay it forward." He cites UC Irvine faculty members like Kwasi Connor, J.J. Emerson, Brandon Gaut, Donovan German, and Nancy Aguilar-Roca (to name just a few) whose support has compelled him to do just that.
One of many instances of paying it forward is Edwin's contributions to La Causa Charter School. Edwin helped develop curriculum, get grants for 3D printers and equipment, and even buy and fix up laptops himself for the students. Most of the school's students are Latino, African American, and LGBTQ+ and for Edwin "those are the students I want to help." The year that he collaborated with the school, they saw unprecedented retention and graduation rates.
Edwin is very passionate about helping students like him have a chance at success for themselves, but also helping them carry on the same collaborative, pay-it-forward values that will add positivity to the world. Even his current research is done with the goal to help solve food insecurity issues by understanding the areas of plant genomes responsible for adaptation and other agronomic traits. This research can help to make crops more efficient and address agricultural roadblocks as climate change takes its toll on the world. He strives to show his appreciation for what others have done for him and be an impactful role model for others, but it will never stop.
There is always more we can do, always more work to be done. That is what makes Edwin Solares not only deserving of the UC President's Postdoctoral Award, but a kind-hearted, hard-working, and compassionate member of the Department of Ecology and Evolutionary Biology. He is someone to look up to and someone whose story inspires, but also pushes all of us to be more inclusive in advocating for equality in STEM and academia.
If we don't do it, no one will.
Written by Jacqueline Markham