Dr. Cascade Sorte: Invasive Species, International Collaboration, and the 2021 George Mercer Award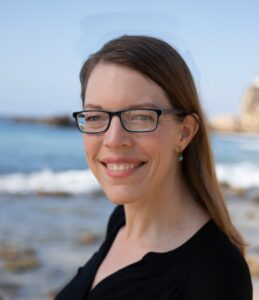 As climate change continues to affect our world, a team of researchers brought together by UCI professor Cascade Sorte is making a positive difference through collaboration and les châteaux de la France. Dr. Cascade Sorte, a faculty member in the Department of Ecology and Evolutionary Biology, is a recent co-recipient of the Ecological Society of America's 2021 George Mercer Award, which is given annually for an outstanding ecological research paper published by researchers early in their career. Sorte's award recognizes a groundbreaking collaborative research article she published in 2019 on the impacts of invasive species.
This study came about with support from the Albert and Elaine Borchard Foundation, which gave Sorte and an international group of collaborators the chance to get together in a castle in France to kickstart the project. The Borchard Foundation funds research and the arts for the betterment of humanity, citing education and social justice as key to their mission. Sorte appreciated the unique opportunity to bring in past collaborators, and those she had had not yet worked with, to meet in a French castle, "eat amazing French food, and do science at the same time," calling it a "dream come true."
Sorte also credits Dr. Bethany Bradley of UMass-Amherst, a longtime collaborator, with leadership of the project. Under their combined guidance, participants experienced a safe space in which they could feel brave and heard. Science is gradually growing into a more collaborative venture with many authors contributing to a single research paper. Sorte and her group are a manifestation of that shift. Without the talents and expertise of a diverse team, their award-winning meta-analysis study would not have been possible. Sorte truly believes in the value of team science, stating that the George Mercer Award serves as "validation of the strength of this approach."
The 2019 study, which provides a framework for understanding the effects of climate change on impacts of invasive species, brought together an international and interdisciplinary group. Scientists from Spain, France, the UK, and the US converged for meetings in each country, with the full project taking just over three years to finish. The research also built on some of Sorte's own Ph.D. work which found that invasive species were often winners when climate changes. The 2019 meta-analysis showed that the abundance of invasive species is a strong indicator of their impacts, providing a framework for predicting how and whether those impacts may be altered with climate change. The 2019 study also highlighted that predators have a non-linear, or initially quick and strong, impact on native populations. The upshot is that managers may need to take swift action to avoid negative impacts of species invasions.
Sorte hopes to continue uniting experts across disciplines and involving UCI scholars in new research. She envisions using the framework developed for invasive species to provide a better understanding of shifting species ranges due to climate change.
Receiving the George Mercer Award validates the effectiveness of collaborative research. Sorte has always admired the Mercer Award winners, and now her success in collaboration means she can count herself among them.
Written by Jacqueline Keiko Markham